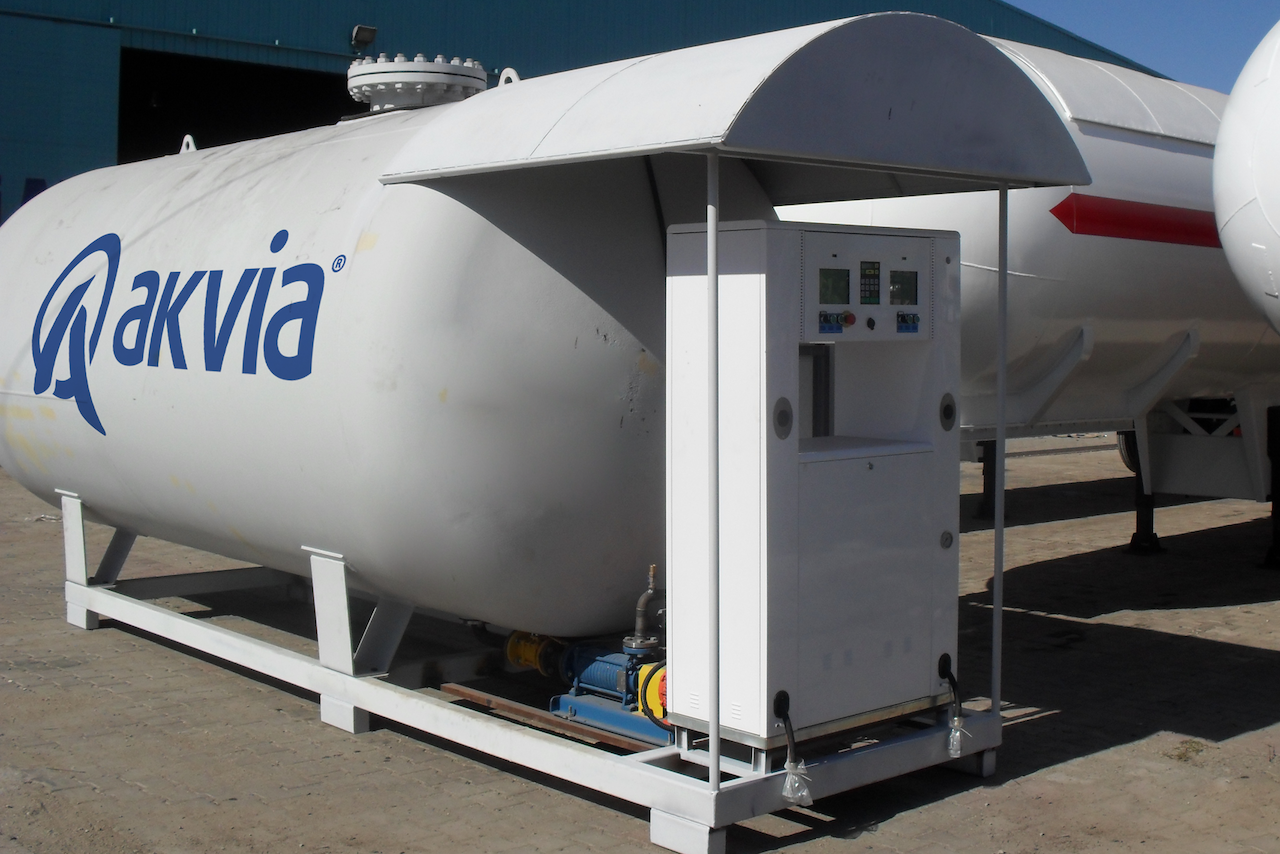 PRODUCT DESCRIPTION
(*) The given capacity is for one filling scale, for a domestic cylinder with 10-13 kg gas capacity. For filling camping or industrial cylinders, filling capacity will be proportional to the gas weight.
Options
Package with one filling scale, without dispenser
Package with two filling scales, without dispenser
Package with double hose dispenser, without any filling scales
Extras for Akvia Dispensary Mobile; Electronic filling scale, truck meter resistant to road conditions, extra strong chassis,
Voltage/frequency other than 230-400 Volt 50 Hz
Protective aluminum cabinet with lock
One pair of 2" LPG hoses,
6 m. length, both ends with ACME 3 ¼" couplings
- Akvia Dispensary is engineered and constructed according to NFPA 58.
- All electric equipment of Akvia Dispensary has ATEX certification.
- Equipment and machinery conform the EU standards and has CE markings.
- Performance of the machinery and equipment of Akvia Dispensary has proven by LPG industry.
Dispensing Capacity
60 li/min
Cylinder Filling (*)
50 cylinders/hr
LPG Pump
3 - 4.5 m³/h 5,5 - 8,4 bar (diff)
LPG storage tank, equipped with baffle plate
1 pc. 20 m³
LPG Dispenser
1 pc. Single hose
LPG Cylinder Filling Scale (*)
1 pc. 50 cylinder/hr
Side channel LPG pump
1 pc. 3-4.5 m³/h
Air Compressor
1 pc. 2 Nm³/hr
Electric panel, ex-proof
1 pc. 230/400 V 50 Hz
Light fixture, ex-proof
1 pc. 60 W / 9-11 W
Gas Detector
2 pcs. Ex-proof
Fire Extinguisher
2 pcs. 6 kg.